William Pope.L
2000 Tanne Award Recipient
Lewiston, ME
visual and performance artist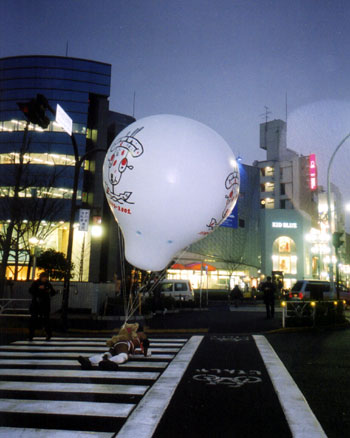 William Pope.L is a visual, performance-theater artist and educator who characterizes his work as "making culture out of contraries." Pope.L, has received many important awards, residencies and grants, including three National Endowment for the Arts Fellowships and most recently a Japan-US Friendship Commission Fellowship to visit Japan in January of 2001 to research Namban Art at the Kobe Municipal Museum. Based on this research he plans to build and facilitate a series of large-scale crawl pieces. He also received a Franklin Furnace/Jerome Foundation Fund for Artists Grant to fund his curatorial project on duration-performance entitled Soma, Soma, Soma at the Sculpture Center in New York City in June 2000. His exhibitions have included, Out of Action at the Los Angeles Contemporary, a one-person exhibition of art objects and a twenty-year photographic survey of his performance-theater work at The Project Gallery in Harlem in New York. Pope.L has performed his crawl piece, Black Bodies and Sport throughout the United States, and Europe —Budapest, Berlin, Prague, and Madrid. In May 2001 he had a one-person show at The Project in New York City. Soon he will have a one-person show at The Project in Los Angeles and will begin touring with his solo ritual-lecture on the sculptural space between blackness and whiteness, Eracism, featuring selections from the last ten years of his performance installation, video and object works. The U. S. tour will begin in July 2002 at the Institute of Contemporary Art in Portland, Maine, and will have a final venue in Europe. Pope.L 's 22 mile crawl through New York City via Broadway that metaphorically demonstrates the degradation of living on the street will be performed as part of the Whitney Biennial 2002.
"My art is not glamorous yet it is ambitious in its feeling. It seeks a visceral, bodily, material explanation for human desire writ large in human action. Like the African shaman who chews his pepper seeds and spits seven times into the air, I believe art re-ritualizes the everyday to reveal something fresh about our lives. This revelation is a vitality and it is a power to change the world."
This bio/description was originally published in 2000 and updated in 2013. For more current information, please refer to the award recipient's website (if provided).