Timothy McDonough
1999 Tanne Award Recipient
Atlanta, GA
actor and playwright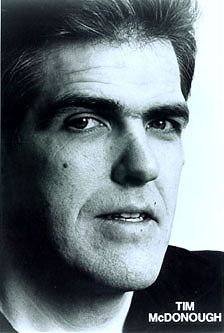 Tim McDonough is an actor/playwright/teacher. He began his acting career in Boston's most adventurous theaters, where he collaborated on the development of many new works. In 1980 he co-founded the nationally acclaimed TheaterWorks, for which he performed, directed and wrote.
He has adapted fiction by John Barth, Michael Ondaatje and John Berger. They All Want to Play Hamlet, an original solo performance, was collaboratively created with Vincent Murphy and Jon Lipsky and was presented at the American Repertory Theatre and Theater Works. He is the author of American Wake and is currently at work on a trilogy about anthropologists called Somewhere Else.
Regional theater appearances include the American Repertory Theatre, Trinity Square Repertory, the Sacramento Theater Company and Shakespeare festivals in California and Idaho. In Atlanta he has acted at Theater Emory, Theater in the Square, Horizon Theater, Theater Gael, the Alliance and the Georgia Shakespeare Festival, where he is an Associate Artist. He has Best Actor of the Year citations the press in Sacramento, Atlanta and Boston, where the Boston Theater Critics Circle presented him with their Best Performance award in 1982. He received a Regional Citation for Career Contributions to Theater from the New England Theater Conference in 1983.
He is a member of the Theater Studies faculty at Emory University, where he teaches acting.
This bio/description was originally published in 1999 and updated in 2013. For more current information, please refer to the award recipient's website (if provided).