PushPush Theater
2002 Tanne Award Recipient
Atlanta, GA
producer of theatrical productions, drama festivals, and workshops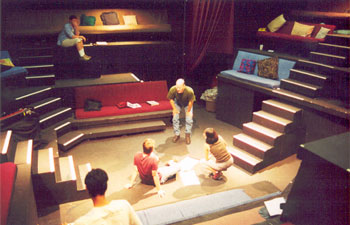 PushPush Theater, an intimate, award-winning theater located in the Emory University area in Atlanta, GA, is now in its sixth year of providing innovative and challenging theater to Atlanta adults and youth. Because of its longstanding artistic involvement in the theater community and the quality of the workshops and productions, PushPush is highly respected in the Atlanta arts community. They have collaborated with many valued artists from every major theater company in Atlanta, as well as renowned national artists such as Murray Mednick and Naomi Wallace. PushPush is distinguished in local theater community by the uniqueness of its mission and its commitment to the quality of its work.
PushPush encourages artists to explore new ideas and take artistic risks that challenge the status quo. They provide artists with opportunities to develop their skills, vision, and craft, and then share their work with the community through fully staged professional productions. They also uniquely rehearse, cast, and obtain staff through these collaborative workshops. Space and professional support are provided as a service for working artists. PushPush aspires to contribute to a community that attracts dynamic artists from other cultural centers while developing and retaining existing artist talent.
To date PushPush has presented over 60 workshop productions, 11 theater and play festivals, 40 artists' workshops, developed new plays by over 30 notable local playwrights, and served 3,000 children with youth-geared productions, workshops and camps. PushPush has also produced several critically acclaimed world premieres, including Frank Manley's The Cockfighter, L.A. playwright Murray Mednick's Tirade for Three, 16 Routines, and Joe and Betty (now playing at the Signature Theater in New York); Naomi Wallace's The Bone Gardens; Lisa Schlesinger's Rock Ends Ahead and her most recent acclaimed play Manny and Chicken at the BP.
This bio/description was originally published in 2002 and updated in 2013. For more current information, please refer to the award recipient's website (if provided).