Norris David Ivie
2000 Tanne Award Recipient
New York, NY
painter and illustrator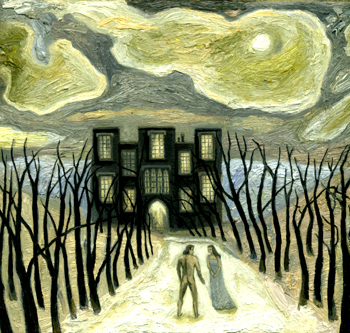 David Ivie is an innovative visual artist from the New South who now lives and works in New York City. His small canvas theatrical evocations are on display in galleries across the country. Exhibitions of his work have brought high praise in the New Yorker and Time Out. Recently he was a consulting artist on "Frailty," a film directed by Bill Paxton with cinematography by Bill Butler ("Jaws") that was released in April of 2002 by Lions Gate. His visual consulting work on this film included his story board drawings for the entire film.
With a Rockefeller Foundation grant, he was a fellow at the Bellagio Study Center in Italy and with a grant from the Camargo Foundation, he was artist in residence in Cassis, France. His many other honors include awards from the Georgia Council for the Arts, the National Endowment for the Arts, and the Atlanta Bureau of Cultural Affairs. He is currently producing illustrations for Questions of Travel, a novel in progress by Brian Bouldrey.
David is now in London painting, drawing and sculpting for his next exhibition in the spring of 2003 at Bill Maynes Gallery in New York.
This bio/description was originally published in 2000 and updated in 2013. For more current information, please refer to the award recipient's website (if provided).