Lake Winnipesaukee Music Festival
1999, 2000, 2001, 2002 Tanne Award Recipient
Wolfeboro, NH
producer of classical music performances and educational programs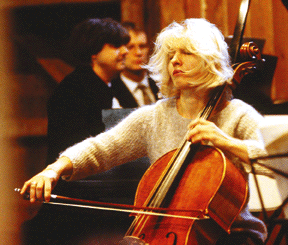 The Lake Winnipesaukee Music Festival was founded in 1994 by violinist, Peter Krysa, and cellist, Rachel Lewis Krysa. Located in a large rustic meadow in Wolfeboro, NH,the Festival is housed in an old reconstructed barn with excellent acoustics.
The mission of the Festival is to bring the highest quality classical music to the New Hampshire Lakes Region, providing a new American concert venue for nationally and internationally acclaimed artists. The Festival hopes to create a demand for music and music education outside New England metropolitan areas. It offers outreach concerts, lectures, children's workshops and private lessons. To enrich the audience's understanding of contemporary music, each year a composer is commissioned to write compostion inspired by the Lakes Region.
During the summer of 2001 for its seventh season, the Festival was held for three and a half weeks and a diverse array of programs was held three evenings a week with a free 'coffee concert' on Thursday mornings. As the Krysas believe music and community should be mutually supportive, they put a great emphasis on education and are committed to the local community. Throughout its existence, that commitment has led to several benefit concerts to raise money for a local children's center, a conservation fund drive, a foundation for children and music, and to providing in-house concerts at local retirement and assisted-living programs.
This bio/description was originally published in 1999, 2000, 2001, 2002 and updated in 2013. For more current information, please refer to the award recipient's website (if provided).