Joanne Rice
2009 Tanne Award Recipient
Quincy, MA
performance artist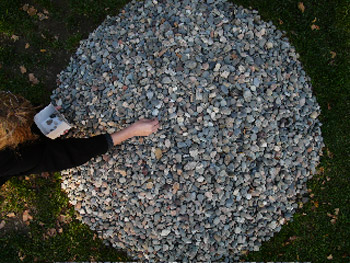 Joanne Rice, a longtime member of Mobius, has produced performances, installations and public actions since 19878 throughout the Boston area, in programs such as Eventworks at Mass College of Art, the Cyberarts Festival, and the Mobius International Festival of Performance Art, and at the 'In the Context of Art/Differences' International Festival in Warsaw, Poland. A recent work that she created for Tom Plsek was performed at the International Trombone Festival in Arhus, Denmark. Much of her recent work has been sited outdoors, including, in the Boston area, at Trinity Church, Boston Common, City Hall Plaza, Fort Point, and Quincy quarry.
Currently Joanne is in the final months of a two-year work called "The Human Cost of War", on the ground of Trinity Church , in Copley Square, Boston. This daily action of placing 100 stones in commemoration of the dead in Iraq and Afghanistan takes more than one hour every day to complete. This quiet gesture continues to grow in impact as people passing by witness her daily presence and the ever-growing mound of stones.
www.mobius.org/mobius_artists.php?id=joanne
This bio/description was originally published in 2009 and updated in 2013. For more current information, please refer to the award recipient's website (if provided).