Jay Critchley
2002 Tanne Award Recipient
Provincetown, MA
performance artis / writer / filmmaker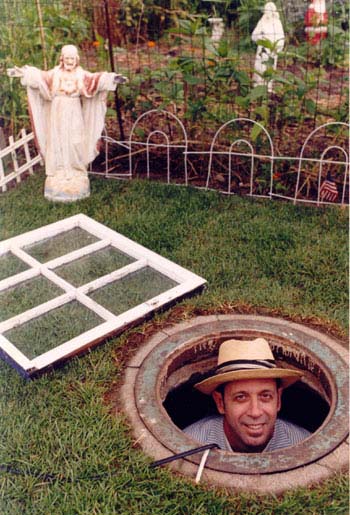 Jay Critchley is a conceptual and performance artist, writer and filmmaker whose work, satire, and humor respond to the ecological, cultural and political locale of Provincetown, Massachusetts, and the world beyond. His numerous ongoing projects and multi-national corporations traverse the globe: from his patriotic Old Glory Condom Corporation "Worn with pride country-wide" which involved a successful three-year legal battle with the US Patent and Trademark Office, to the ecological/HIV Blessed Virgin Rubber Goddess -"Immaculate Protection;" from Miss Tampon Liberty – with a gown made from 3,000 plastic tampon applicators washed up on Cape Cod beaches, to the Nuclear Recycling Consultants (NRC) – reclaiming our nation's nuclear heritage; and the IRS – International Re-Rooters Society – celebrating 20 years of community ritual.
This self-described "born-again" artist lives year round in Provincetown where his first movie Toilet Treatments won the HBO Audience Award for shorts at the 2002 Provincetown International Film Festival. He is founder and director of Theater in the Ground@ Septic Space in his backyard septic tank. Many people still remember him for his "sand car series" on Provincetown's MacMillan Wharf in the early 1980s – automobiles encrusted with dune sand, occupied with sand-covered people, filled with sand, and sand blasted.
He has been selected for numerous residencies including two at Real Art Ways in Hartford, Connecticut, Williams College in Massachusetts, AS220 in Providence, Rhode Island, Harvard University, in Cambridge, Massachusetts, and Harvestworks Digital Media Arts Center in New York City.
He is the founder of the Provincetown Community Compact, Inc. and the Provincetown Harbor Swim for Life & Paddler Flotilla, an AIDS benefit celebrating its 16th year on September 6, 2003.
This bio/description was originally published in 2002 and updated in 2013. For more current information, please refer to the award recipient's website (if provided).